About our Portuguese courses
Reasons to choose European Academy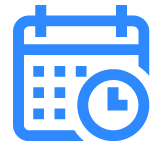 More than 1 million graduates
11 different languages are available
Nowadays, 260 million people speak Portuguese around the world, it is the fifth language with most speakers and the third language of the Latin alphabet most used after Spanish and English.
5 reasons to learn Portuguese
There are many reasons to learn Portuguese
Today, more than 1 million people speak a new language thanks to European Academy. You can be the next member of the largest multilingual community of the American Continent!