We offer your Czech courses
Reasons to choose European Academy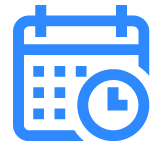 More than 1 million graduates
11 different languages are available
If you love languages, Czech is the next opportunity to communicate fluently in Europe! Unlike Russian, Czech is written using the Latin alphabet, and it is easier to learn how to read and write!
5 reasons to learn Czech
Here you have some good reasons to start learning Czech today!
Today, more than 1 million people speak a new language thanks to European Academy. You can be the next member of the largest multilingual community of the American Continent!